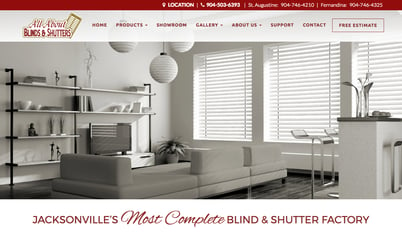 We recently launched our brand new website and we couldn't be more excited to share it with our valued clients. All About Blinds & Shutters has been transforming Jacksonville homes for over 20 years, so we decided it was time for a little makeover of our own. Visit our newly revamped website to experience everything you love about All About Blinds & Shutters, but with a fresh, sleek look. It is our pleasure to provide you with a website that is easy to navigate and visually appealing.
Our new website allows you to:
Have fun exploring our new site! We'd love to hear your feedback, and remember to contact All About Blinds & Shutters today to see if we can help make your dream home a reality!