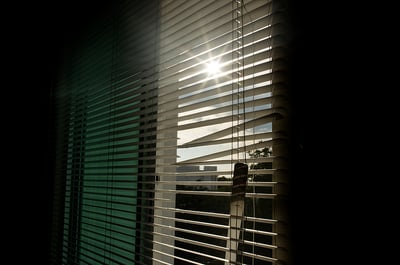 Even the sturdiest, most faithful blinds eventually give up the ghost. Older and well-loved blinds are destined to fail after years or even decades of service. While you get to enjoy choosing new blinds and an updated aesthetic for your home, the transition to fresh blinds does leave you with the question of what to do with your old ones.
These days, it pays to reuse and upcycle everything, even old blinds. There are plenty of projects you can enjoy that make use of these former window treatments. Get crafty with these ways to make use of blinds that would otherwise go to waste in the garbage!
Old Blinds as Tools for Home Improvement and Cleaning
Even if you aren't inclined towards crafts, you can still make use of your old blinds around your home. There are plenty of ways to give new life to pieces of blinds you would otherwise throw away.
Use your old blind slats as a paint edger for home painting projects instead of painter's tape. They will give you a crisp, clean edge where the wall meets the molding, or other places you want to keep paint away from.
For quick and easy crumb cleanup, use a slat from old blinds to scrape crumbs or other debris off tables or countertops.
Tired of fishing for the end of your tape? Use a small piece of blind slat as a tape pull and save your fingernails!
Growing herbs or veggies this year? Write on the ends of old blinds and use them as plant markers. Never confuse your parsley for your cilantro again!
Old Blinds for Arts and Crafts
We're all spending a lot more time at home these days. If you're the crafty type, you'll love these ideas to pass the time. Old blinds have dozens of uses as craft supplies!
Need a way to occupy your kids? Drill holes in old blinds and tie ribbons in the holes, then turn your little ones loose with paints or markers. They can make their own bookmarks from the slats!
Old blinds and shades can be glued down and painted to create textured wall murals. Show off your artistic side with this unique canvas!
Children love props that allow them to pretend they are adults. Use slats from old blinds to create play road barriers and other obstacles for their play driving adventures.
Looking for more craft ideas?

Pinterest

has you covered! From strips of bamboo shades decorated with paint and tape to baskets woven of slats from old blinds, you can find it all.
All About Blinds & Shutters Has the New Blinds You're Looking For
You can't do arts and crafts with old blinds until you have new ones. All About Blinds & Shutters has the styles you're looking for at prices you'll love. Contact us today!