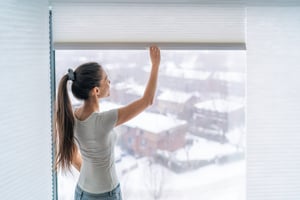 Over the years, your blinds and shades can take a bea
ting from sun exposure, broken hardware, damaged materials, children, pets and normal wear-and-tear. Although blinds and shades are a durable choice for your windows,
daily use can impact their appearance and operation. Here are 5 important signs that replacing window treatment is a good option for you.
1. Has the original color changed to something less desirable?
Your blinds and shades are constantly exposed to sun through your windows. In Florida, the eastern and western windows can be exposed to intense sunlight during the summer months! One particularly bad result of intense sun exposure on shutters, blinds, and shades is color change.
Often times it's not just the fading of color but it's the slow transition to an unsightly yellow tone. This occurs when there is little UV inhibitor in the finish coatings applied to the product. Fortunately, the finish coatings used today are much more advanced in their ability to resist UV discoloration. These new advanced coatings apply to the paint used on Wood Shutters and Wood Blinds, as well as the injected colors used in Poly Shutters and Faux wood Blinds, and the color safe clear coatings used on Roller Shades, Cellular Shades, Roman Shades, and Screen Shades.
2. Do the controls no longer work smoothly and reliably?
Blinds and shades provide easy operation, but over time parts and controls can get worn or damaged. Blinds and shades contain moving parts hidden in the headrail or roller. Headrails house intricate cords and cord locks that raise and lower window treatments. If they break or loosen, your blinds and shades can get crooked or jammed. Roller shades operate on a spring mechanism hidden in the roller. If the spring wears out, raising and lowering shades can be become difficult. Blinds and shades also have lift controls and tilt controls that may require replacing window treatment if they get damaged.
3. Have the louvers lost their straight appearance and become wavy?
If your louvers are no longer straight, they may be warped from heat or moisture, or wavy due to a problem within your headrail or tilt control. Either way, new blinds are your best bet since wavy louvers are certainly not attractive. If louvers or slats have warped from intense heat and sun, water or excessive moisture, there's no good way to repair them. If your tilt control mechanism is damaged, it will require repair or replacement. Rather than invest the time and money in costly repairs, replace your blinds and give your home a fresh, new look.
4. Have your pets caused uncleanable or unrepairable damage?
Pets can cause a lot of damage to your blinds and shades, especially with floor to ceiling windows or windows that sit close to the floor. Cats and dogs love to sit at the window and wait for you to come home from work. It's a wonderful, friendly gesture, but constant jumping can tear slats and fabrics, damage cords and controls and leave dirt and pet hair embedded in the fabrics. Sadly, no window treatments are immune to pet damage.
5. Have your neighbors commented that your blinds or shades aren't so private?
When you purchase blinds and shades for your home, privacy is an important factor, especially in bedrooms and bathrooms. It's essential to choose the right type of blinds or shades that offer privacy controls or linings for adequate privacy needs throughout your home, especially at night or when you live on a busy street. Roman shades, honeycomb shades and cellular shades are available with privacy linings and blackout linings for maximum privacy. If you're concerned about your neighbors, consider replacing window treatment with good privacy controls.
If you need help replacing window treatment for your home, contact us at All About Blinds. We can guide you through your options for best long-term results. Just give us a call today to get your free estimate!